//
Havana - La Belle Epoque | Restaurants and bars
Info
Bar Tapas | Restaurant
Eden Plaza / Eden Island | Mahe
4.1 km from Victoria / 6.5 km from Airport
Salads, paninis, burgers, wooden-oven pizzas, wraps, tapas, pastries, home-made natural ice cream
Meat dishes, fresh fish and seafood, lobster
Bar with specialties of alcohols, cocktails and Cuban cigars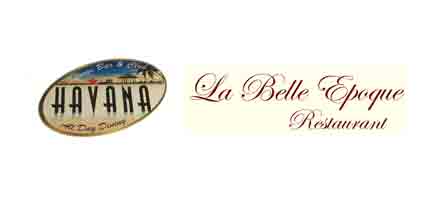 Our offer
Come and taste the salads, paninis, burgers, pizzas, wraps, pastry of the day from the House, ice Cream and cocktails and especially the plates of tapas. Come appreciate the atmosphere at the Bar or Lounge Terrace with our superior alcohols and Cuban cigars.


About us
Two restaurants, one venue:

Le Grand Havana
With its confy lounge and its crackling marina view with a cosy space for light meals, snacks, cocktails and home-made ice cream throughout the day and evening. Large selection of Cuban Cigars and Extra Old Rum.

La Belle Epoque
Innovative.....Exciting....Delicious.... The simplest food and drinks can be most exciting when preparation and execution are only surpassed by the quality of ingredients. The study of culinary preparations offers a creative approach to art and science delivering tasty flavors in our dishes. Authentic wooden oven Pizza and special seafood dish is a must try!
Opening hours: Monday to Thursday 8am to 12pm / Friday and Saturday: 8am to 1am / Sunday: 8am to 12pm