//
Gran Kaz Entertainment Centre | Casinos
Info
SLOTS | CASINO
Victoria / Mahe | Mahe
1.1 km from Victoria / 8.8 km from Airport
150 slot machines, Table Games
Roulette, Black Jack, Stud Poker, Russian Poker, Casino hold 'em Poker, Texas hold 'em Poker
Bar with the most competitive prices on all drinks including signature cocktails
Large screen television featuring sporting events & providing live entertainment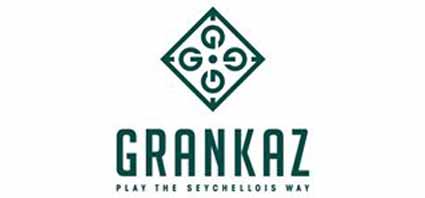 Our offer
Established in 2014 in Seychelles, Gran Kaz as the no.1 casino in Seychelles exhibits more than 150 modern technologically advanced slot machines to suit the taste of all players. With low minimum bets ranging from 1c to SCR100, Gran Kaz slot machines encompasses smart cashless gaming, designated for more winning opportunities the 1st in casino gaming in Seychelles.

• Gran Kaz comprises of a Table Games area where you can play Roulette, Black Jack, Stud Poker, Russian Poker, Casino Hold 'em Poker, and Texas hold 'em Poker.
• Gran Kaz also boasts one of the most popular Bars in Seychelles, the Mercury Bar in the Slot Area, offers the most competitive prices on all drinks including signature cocktails, with a small but unique bar menu for snacks and easy bites.
• An exciting and lively bar area has large screen television featuring the latest televised sporting events and provides regular live entertainment. Also Gran Kaz offers Royal Flush Bar in the Casino Area.
• Our spacious building and friendly staff awards Gran Kaz with a unique rank above competitors.
• So, no queues, no fuss, just sheer gaming enjoyment in the best comfort. Setting the Standard in Casino experience in Seychelles.
About us
Housed within Mercury House, a National Treasure located in the very heart of Victoria, on Francis Rachel Street, Gran Kaz Victoria Slots was created in 2014 to offer Seychelles the best possible gaming experience for players aged 18 and above.

Gran Kaz Victoria Slots offers over 150 of the latest, most technologically-advanced slot machines, operating a smart cashless gaming system and designed to maximise gaming pleasure.

With a low, minimum bet ranging from 1 cent to 100 rupees, and a wide range of games to suit the tastes of all players, there's truly something here for everyone.

Visitors can enjoy gaming in this visually stimulating, spacious and comfortable building from 10am to 2am Monday to Sunday.
Open Sundays to Thursdays 2pm to 2am / Fridays and Saturdays 2pm to 4am
REWARDS PROGRAMME • The first and only Casino in Seychelles to offer a three-tier reward programme for loyal players. Members enjoy exclusive privileges that extend beyond gaming entitling you to a wealth of exciting perks discounts rewards and other advantages. Each membership category requires specific status points and provides a corresponding number of benefit. • You can work your way up from a Club 7 Membership to Silver Card and Gold Card categories with each one opening up a wealth of rewarding experiences. • Simply contact Gran Kaz for more information about the membership programme and how to enrol
PROMOTIONS Wednesday Winners/ Ladies Night Special/ Poker best combination/ Day break special/ Treasured citizen/ Lucky 30
BARS • ZEZ BAR offers locals and visitors alike a vibrant atmosphere in which they can watch their favourite sports matches enjoy an after work drink with colleagues or catch up with friends • BONM BAR offers the convenience of a central location and an intimate atmosphere ideal for smaller gatherings. • THE GRAN KAZ VICTORIA PIANO BAR located in the Mercury House Annex is the perfect place for sophisticated mingling. Featuring a soothing lounge-like atmosphere unforgettable signature cocktails and renowned Gran Kaz First Class Service this is the epitome of a fine casino bar.