//
Gala | Take aways cafes and ice cream
Info
Creole, fastfood | Indoor & outdoor seating
Anse Reunion / La Digue | La Digue
Take away, Indoor & outdoor seating
Fastfood, burgers, sandwiches, nuggets, chips, chicken, fish, sausages, omelettes
Snacks
Creole cuisine with daily menu: grilled fish, meat, curries, vegetarian curry
Fresh local juice, milk shakes, desserts, cakes, plate of fruits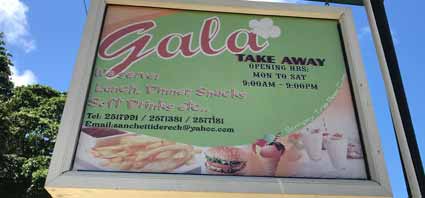 Our offer
We serve fastfood, snack and delicious creole cuisine.

About us
A family owned and operated take away providing fresh food with friendly service.

Lunch and dinner menus available all day.
Opening hours: Mon-Sat: 9am - 9pm
While on La Digue come and taste our daily menu which changes every day.